"We were promised bicycles for the mind, but we got aircraft carriers instead" – Jonathan Edwards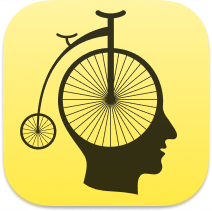 Bike is a macOS (11 and later) native outliner. Bike has good performance on big outlines. Bike uses open file formats and is scriptable too. Use Bike to record and process your ideas.
Movie
Outlines are powerful, but can be confusing. In Bike outline editing is fluid, your ideas flow across the screen instead of jumping from position to position. This makes it easier to track what's going on, and it's fun!
Features
Clean outliner.

Bike's editor is something new. It's custom built to provide a fast and fluid outlining experience.

Outliners are powerful but constraining. Text editors are freeing but weak on structure. Bike is good at both.

Bike respects your computer's memory and battery. Bike is a macOS native app and passes the Moby Dick Workout.

Bike uses open file formats. The .bike file format is HTML–you can view it in your web browser. Bike also supports .opml and .txt.

Bike is scriptable. Use AppleScript to control and automate Bike and integrate Bike with other scriptable applications.

Bike is a new app. Be an early adopter and help shape Bike's future. Rich text, themes, and plugins are features I'll work on next.
Screens
License
Purchase a Bike license to enable all features and support my work. Licenses are availible in three forms:
One-Time: The license you purchase on this website unlocks all Bike features and entitles you to one year of free updates. After one year Bike will continue to work fully unlocked, but you must renew your license (at discount) for updates.

Subscription: The license you in-app-purchase from the Mac App Store unlocks all Bike features while active. When the subscription expires Bike will continue to work in unlicensed mode.

Unlicensed: You can download Bike for free from this website or the Mac App Store. Some features are disabled, but Bike is still useful for real work. You can open, edit and save documents and use all core editing commands. Unlicensed mode doesn't expire.
Why Bike?
I think macOS needs more "bicycles for the mind".
Bike is small enough to fully understand. Once understood it's flexible enough to be used for many purposes.
Bike is small, but designed for real work. It's fast. It can handle big outlines that break other outliners. Bike's also fast at the basics–opening files, scrolling views, and resizing windows. Bike won't slow your Mac down.
Bike makes your work open and accessible. Outlines are stored in text files using standard file formats. Bike is also scriptable. Automate and extend Bike into your own workflows with scripts.
Learn More