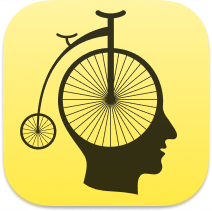 Use Bike to organize your thoughts. Make lists, take notes, and save your ideas. Bike is a powerful outlining tool for thinkers and writers.
Watch Bike's Intro Movie
Outlines are powerful, but can be confusing. Bike outlines are fluid. Your ideas flow across the screen instead of jumping from position to position. This makes it easier to track what's going on, and it's fun!
Why Bike Outliner?
"We were promised bicycles for the mind, but we got aircraft carriers instead" – Jonathan Edwards
I think macOS needs more "bicycles for the mind".
Bike is small enough to fully understand. Once understood it's flexible enough use for many purposes.
Bike is small, but designed for real work. It's fast. It can handle big outlines that break other outliners. Bike's also fast at the basics–opening files, scrolling views, and resizing windows. Bike won't slow your Mac down.
Bike makes your writing open and accessible. Outlines are stored in text files using standard file formats. Bike is also scriptable. Automate and extend Bike with scripts.
Features
Clean macOS native outlining software.

Innovative rich text editor. Format your text easily and precisely.

Fast and efficient by design. Bike's editor is custom built to provide a fluid outlining experience.

Outliners are powerful but constraining. Text editors are freeing but weak on structure. Bike is good at both.

Bike respects your computer's memory and battery. Bike is a macOS native app and passes the Moby Dick Workout.

Improved macOS text checking. Autocorrect, user replacements, and spelling errors with a more consistent user interface.

Bike uses open file formats. The .bike file format is HTML–you can view it in your web browser. Bike also supports .opml and .txt.

Distraction-free outlining. Full screen, typewriter, and focus modes. You've seen these features before, but not combined with Bike's speed and fluidiy.

Printing & Quicklook & Thumbnails. Bike can print! It can also generate quicklook previews of your outlines in the finder. It can even generate icon thumbnails of your outlines. Bike works well with standard macOS technologies.

Live word counts and other text statistics display in the status bar.

Follow deep-links into your outline from other apps. Bike links don't break when you rename or move your outline file.

Automate Bike with Shortcuts. Use Shortcuts to control and integrate Bike with other applications.

Bike is scriptable. Use AppleScript to control and automate Bike and integrate Bike with other scriptable applications.
More Movies & Screenshots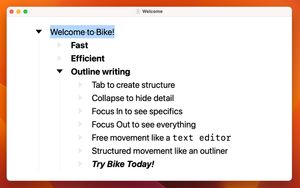 License
You can download Bike for free from this website or the Mac App Store. Free mode includes Bike's core features and never expires. Purchase a license to enable these additional features:
Rich Text Formatting (Bold, Italic, Links, etc)
Focus Mode (Word, Sentence, Paragraph)
Typewriter Mode (Top, Center, Bottom)
Text Wrap (Window, Column 64, etc)
Shortcut Actions
AppleScript
License is available in two forms:
One-Time: The license you purchase on this website unlocks all Bike features and entitles you to one year of updates. After one year your version of Bike will continue to work fully unlocked. You must renew your license at 50% off to get another year of updates.

Subscription: The license you purchase from the Mac App Store unlocks all Bike features while active. When the subscription expires Bike will continue to work in free unlicensed mode.
Learn More