Hookmark: Bike Companion
This month Bike is partnering with Hookmark.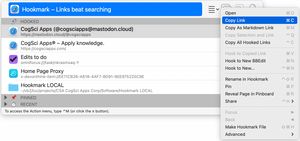 Hookmark is a macOS app for creating links to items: files, todos, mails, and more. These links are deep and bidirectional. The latest Hookmark release is updated to work great with Bike.
Bike and Hoomkark are companions. Use Bike to store and organize links that you've created with Hookmark. Use Hookmark to create deep links into specific rows of your Bike outlines.
Hookmark 30% Off Coupon
Hookmark has as free trial, you can download it out now.
Use the coupon code "Bike-Outliner" to get 30% off Hookmark's regular price. This coupon expires May 17th.